New solution optimizes cashless tip capture and distribution, offers faster tips and fee-free financial tools to service professionals.
Tippy, a digital tipping platform, has informed Hospitality Technology that it will be announcing later today that it has embedded workforce payments platform Branch to launch a new, all-in-one solution for acquiring and disbursing cashless tips. Tippy and Branch's integrated solution optimizes the entire tipping experience, from the customer's wallet to the service professional's wallet.
The new partnership allows Tippy to distribute tips instantly to service professionals through the Branch digital wallet. Customized for business owners' and staff's unique needs, Tippy will now offer businesses convenient customer facing tipping screens, SMS, and QR code UIs designed to simplify tip disbursement and maximize tip results, increasing tips 23 percent on average. By integrating Branch, Tippy reduces the wait time for receiving tips by more than 96 percent. Workers can receive their funds in less than an hour when pooling and splitting gratuities or in seconds with direct tipping.
Without requiring pre-funding, cash reserves, or changes to payroll, the enhanced solution creates a cashless, frictionless process at no cost to the business or their workers. Service professionals receive fast, convenient access to their funds with the option to spend using the Branch debit card, Apple Pay, Google Pay, or by transferring funds to another account. Backed by a fee-free, FDIC-insured checking account, the Branch Wallet and Card also provide additional tools to drive financial inclusion and higher staff retention including free ATM access, up to two-day early paycheck, cash flow management tools, and rewards.
To learn more about how this integration will ultimately benefit the hospitality industry and its non-desk employees, HT spoke with both Branch Founder and CEO Atif Siddiqi as well as Tippy CEO and Co-founder David Tashjian.
HOW MIGHT A SERVICE LIKE TIPPY DRAW EMPLOYEES BACK TO HOSPITALITY?
DAVID TASHJIAN: The hospitality industry has certainly not been immune to the retention issues felt by many businesses today. In fact, in many ways, service professionals in the hospitality industry have suffered even more. Why? Because they rely on tips for a significant portion of their earnings – and customers are no longer carrying cash. And to exacerbate the problem, the payments industry has not kept pace with this changing trend.
There's a big difference between a customer handing a service professional their tip versus adding the tip to a credit card receipt. The personalization is lost. And less personalization means lower tips. It's human nature – The customer will tip more when they know you know. We did a survey of customers tipping via credit cards at a front desk. Over 50% of the customers believed the owner was taking a cut of the tip; and over 70% believed their service provider would never know how much they tipped (They believed that by the time their provider received their tip a week or two later in payroll, he/she would have no idea of who tipped and how much).
And even worse, in cases like hotel housekeeping staff and valets, people without cash simply no longer tip. With the customer's migration from cash to plastic, no convenient way to tip means no tip. Hotel housekeepers have watched their tips decline over 60% as customers no longer carry cash. And plastic rather than cash means one more new obstacle for staff. They now have to wait one to two weeks to receive their tips in payroll. This is a big change to employees who are used to leaving at the end of their shift with their tips in their pocket.
Decreasing tips, paired with employees having to wait a couple of weeks to receive their tips in payroll) in an industry where tips are such a large portion of the income, means major retention issues. And that's where Tippy and Branch come to the rescue. Our comprehensive solution not only provides higher tips that are pushed instantly at the end of each day, but also gives service professionals access to more inclusive savings and banking features. It's this Financial Empowerment that is helping attract employees back to the hospitality industry. These tools and their significant results are helping build a stronger owner/employee trust. Owners of hospitality businesses must assure their workers they are using the best tools available to tackle these changing payment trends and financially empower their employees and independent contractors.
WHAT KIND OF PROBLEMS DOES THIS INTEGRATION FIX FOR TIPPED WORKERS IN HOSPITALITY?
DAVID TASHJIAN:  It takes all the "heavy lifts" of tipping off of the business owner, allowing Tippy and Branch to provide unique features and benefits without hassle. When customers started carrying less cash, owners simply allowed them to start using credit cards to tip. But this meant lower tips and a longer wait for the workers. With Tippy and Branch's integration, tips are higher and arrive instantly. It empowers the service professional, allowing full tip tracking and wallet spending. Branch's digital wallet and card also have inclusive benefits like cash back at participating retailers, up to 2-day early paycheck, free ACH transfer, and  over 55,000 free ATM options nationwide.
ATIF SIDDIQI: The integration is also built for every step of the tipping process so that the experience is optimized for all parties involved. From the customer to the service professional, everything is fast, seamless, and tracked. Customers short on cash have a convenient way to tip so that workers don't miss out on additional earnings. Many people don't realize how much tips account for a service professional's income. Our joint solution makes sure that workers can not only maximize the amount they're tipped but also receive and use their money how they want to. Easier access along with other fee-free financial services can empower workers to meet their financial goals and find greater financial stability. It also frees companies from the costs of implementing payments via pay card or paper check, as workers can receive all their earnings through the Branch Wallet. Unlike pay cards and paper checks, the Branch Wallet allows workers to receive their earnings at no cost.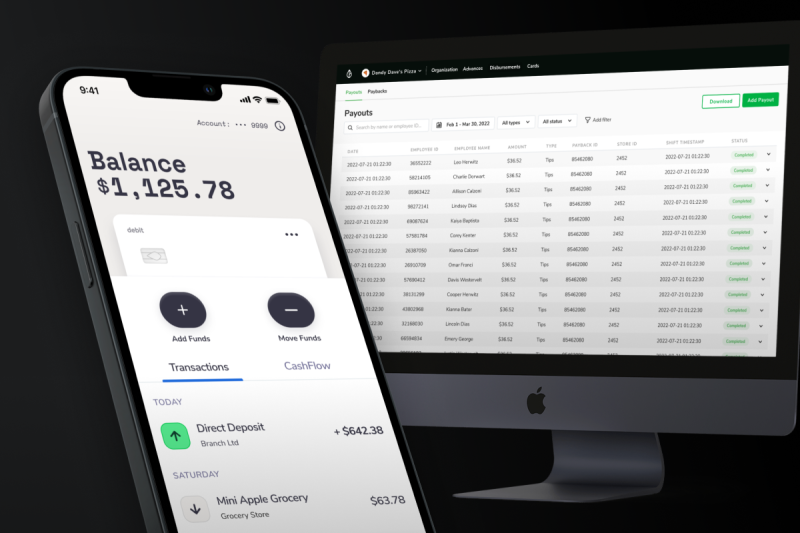 HOW DOES THIS TYPE OF TIPPING SOLUTION BENEFIT WORKERS AND MANAGEMENT WHEN IT COMES TO REPORTING TIPS TO THE IRS?
DAVID TASHJIAN: First and foremost, Tippy's solutions all come with a dashboard that enables seamless reporting of tips as wages directly through payroll. Both for SMBs as well as larger companies. But we don't just stop with that. Our dashboard also provides helpful analytical reports both by location and by employee. Owners can rank employees by number of tips, tips-to-service, dollars of tips etc. The management tools are great for employee reviews – and it's these numbers that represent customer satisfaction.
Let's face it – all service professionals love cash tips. But customers are no longer carrying cash. So if faced with credit card tips, why not use every tool available to get these tips higher. A "Tippy Tip" is more than just a credit card tip. We get tips higher, and in many cases, the increase is more than enough to offset their taxes!
ATIF SIDDIQI: Companies and workers alike appreciate a convenient way to track those tip earnings. Especially for workers who are looking to qualify for a mortgage or car loan, having that additional proof of income can provide more financial opportunities. Rather than relying on manual, piecemeal tracking to combine app tips via CashApp, Venmo, or PayPal, cash tips, and tips from the POS system, this new solution offers workers a way to track all those offerings and separate business transactions from personal.
HOW DOES THIS TYPE OF TIPPING SOLUTION IMPROVE MORALE?
ATIF SIDDIQI: Especially amidst rising costs, having higher tip earnings and convenient access to them can help workers meet their timely financial needs. As a dynamic digital wallet backed by a fee-free checking account, the Branch Wallet offers workers an array of tools to help them grow financially including elimination of account fees, free ATM options, easy transfer to and linking of accounts, cash back rewards, and cash flow management tools to keep track of spending. When workers feel greater confidence in their finances, they're more likely to perform better at work and stay longer at their workplaces. A study from Financial Health Network found that 60% of workers said they would be more likely to stay at a job if their employer offered financial benefits that helped their day-to-day lives. It's a great opportunity to boost morale among workers and business owners.
DAVID TASHJIAN: The Tippy and Branch solution creates major cost-savings for both workers and business owners — owners can eliminate processing fees on tips and workers can eliminate the cost to access tips and general banking/ATM fees. It's a winning solution for everyone, from the convenience for the customer, to the benefits for the service professional, to the savings for the owner. And especially in a competitive labor market, by optimizing the tipping experience with Tippy and Branch, owners can effectively give their average hospitality worker an $1800 annual raise at no cost to them or their workers.
ANY OTHER COMMENTS?
ATIF SIDDIQI: We're incredibly excited to partner with Tippy to combine our unique experiences in tip payments and create a new solution that addresses the gratuity needs of customers, business owners, and workers across industries. There are so many types of businesses and industries within hospitality, from hotels and restaurants to spas and pet care, that are in need of improved tipping tools and financial wellness benefits for their workforces. The pandemic has really accelerated the movement of digital tips, and business owners are looking for feasible ways to embrace this change. Tippy and Branch's system is independent and easy for business owners and their workers to adopt, regardless of POS system, and requires no integrations.
DAVID TASHJIAN: We couldn't be more excited about our partnership and integration with Branch. There are card companies, there are payroll companies, there are tipping solutions, and there are processors. But no one has combined all into one unique offering.
Everyone at Tippy has been so amazed at how easy it has been to work with Branch. Our cultures are similar – while we all work hard we also all enjoy what we are doing and have similar goals for the industry – and that's what makes it fun. We here at Tippy consider ourselves lucky to have teamed up with such a wonderful partner!